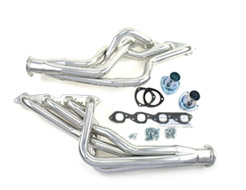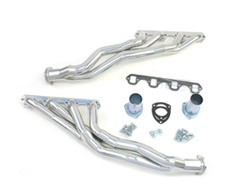 THE ORIGINAL DOUG'S HEADERS
THERE'S ONLY ONE DOUG
His engineering genius in header design is only available here. The no-compromise fit and quality of Doug's headers has been the choice of those seeking maximum performance for almost five decades.
Want the original? Look for the Doug's badge. Everything you need to do the job right!
Features
Premium gaskets standard
Up to 1100°F & 3200 PSIG
Plated fasteners & special locking washers
Corrosion resistant & no loose bolts
Collector reducers or connector pipes included
Easier installation
ANATOMY OF A DOUG'S HEADER
4-tube full length headers
Typically used for higher RPM horsepower, but can also increase the mid-range torque in applications where there is room to fit a long tube.
Tri-Y Headers
For muscle cars, trucks and motorhomes yield maximum power from off idle to 4500 RPM making them well suited for applications demanding maximum mid-range torque with maximum fuel economy.
4-tube stock manifold replacement headers
Designed for easy installation and are emission control device compatible.
4-tube shorty (clippster)
Provide improved ground clearance for popular muscle cars and street rods.

CORVETTE SIDEMOUNT HEADERS
Features
Thick 3/8" machined flanges
16 gauge steel construction
Machined sealing beads
Polished primary tubes
CNC mandrel bends
Precision formed collectors
Available chrome, hi-temp black or metallic ceramic coated
Side tubes and mufflers sold separately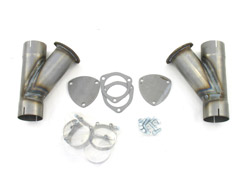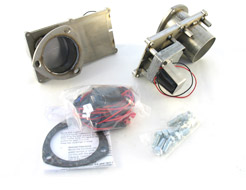 ELECTRIC EXHAUST CUT-OUTS
Un-cork your exhaust with the flip of a switch. Doug's electric cut-outs feature a rugged gear reduction, 12 volt DC motor and a rotating gate for a leak proof seal. A pre-wired harness and switch are supplied for easy installation. Cut-outs are ideal for race tracks that don't require mufflers. Available in singles or pairs and in complete kits with Y-Pipes for easy installation. Available in 2 1/2" and 3" diameters.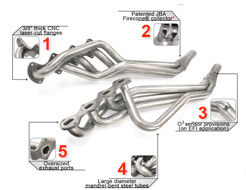 JBA PERFORMANCE EXHAUST
MORE POWER, MORE SOUND, HIGHER QUALITY
The original is still the best. Don't settle for less than the great performance, power and sound of JBA Headers and Exhaust Systems. JBA Performance Exhaust is the newest addition to the PerTronix Family of Performance products. JBA's extensive late model passenger car, truck, and SUV applications complement our Doug's muscle car applications and Patriot's street and hot rod lines while for the first time bringing to you a complete line of catback exhaust systems and high flow mid-pipes.
Available Applications
Cat4ward headers, Long tube headers, Cat back exhaust, High flow mid-pipes.
Cat4ward headers
The first step in creating an efficient and powerful exhaust system is the addition of JBA headers. Premium quality, heavy duty stainless steel construction and massive power gains are key elements in the JBA design philosophy.
Long tube headers
These designs are dyno and race proven to deliver the greatest possible increase in horsepower and torque throughout the RPM range.
Features
Mandrel bent stainless steel provides the best flow and durability
3/8" flanges with oversized exhaust ports and machined sealing beads for better flow with no leaks
Patented Firecone® collectors
Premium gaskets and fasteners
Optional polished silver ceramic or titanium ceramic coated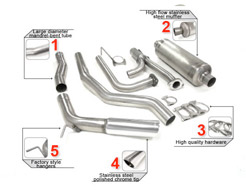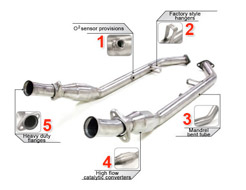 THE BEST JUST GOT BETTER
Exhaust systems
JBA Performance exhaust systems add even more power to your car, truck or SUV. Stainless steel construction, high flow muffler designs and great looking tips are the perfect complement to any vehicle.
Mid-pipes
JBA mid-pipes free up more valuable power by eliminating restriction between the headers and exhaust system.
Features
High flow stainless steel muffler
Larger mandrel bent stainless tubing
Larger mandrel bent stainless tubing
Stainless steel polished chrome tip
Factory style hangers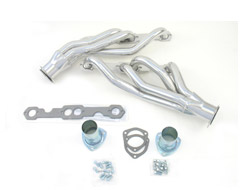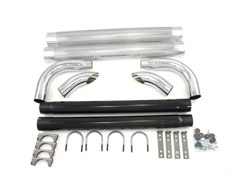 HEADERS-SIDE EXHAUST, MUFFLERS-EXHAUST TIPS, DIY COMPONENTS & ACCESSORIES
Patriot Exhaust Products offer the best value for money of any brand in the industry. Known for years as the primary exhaust supplier to the street rod enthusiast, Patriot continues to add new applications for popular muscle cars and trucks.
Here's just a small selection of what you will find at Patriot
Street Rodder Headers: Tight Tuck, Full Length, Clippster, Roadster and Fenderwell Headers
Specific Fit Headers: Chevy, Dodge, Ford, Pontiac and Oldsmobile
Circle Track Headers
Side Exhaust: Shielded Side Pipes, Lake Pipes and Side Tube Turnouts
Mufflers: Smithy's, Stainless Steel Mufflers, VaraFlow Mufflers
Exhaust Tips: Bellflower, Megaphone, Fish Tail, Slash Cut
Exhaust Components and Accessories: Weld Up Header Kits, J Bends, U Bends, Tubing, Flange Kits, Formed Collectors & Reducers, Gaskets, Installation Hardware & Brackets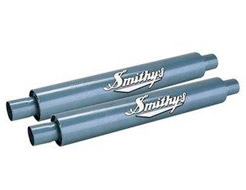 SMITHY'S SINCE 1920
The world's oldest performance muffler is now available for that "resto-rod" or your 1950's custom. Get the muffler your Dad impressed his friends with, and yes it's still guaranteed not to blow out or leak. Double end cap construction and 3 1/2" hammertone finished cases assure the original Smithy look. Available in three different inlet sizes and three different lengths to enable you to really customise your installation!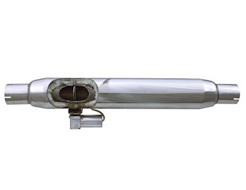 VARAFLOW TUNABLE MUFFLER
The VaraFlow muffler, featuring SFI Technology, uses and electric motor and valve assembly that permits adjustment of the exhaust sound, while driving. SFI stands for Sound Flow Inversion, Patriot's proprietary valve and baffle design redirects the flow of the exhaust to instantly change the volume and tone. Get the exact sound you're looking for, or tune out annoying drones when driving down the highway.
The VaraFlow Muffler features a 2 1/2" inlet and outlet, a slim 4" x 24" body design and tight fitting servo motor making this muffler ideal for Street Rod and Muscle Car applications where space is at a premium.